Hinges for wood sunglasses, spring hinge for wood eyeglass:
Unlike hinges for metal and plastic frame, hinges for wood eyeglass are special.
Since they couldn't be soldered like hinges for metal frames, nor mounted by heat as hinges for plastic frames, when developing this kind of hinges, all we considered is how to make it to be mounted most easily, as easy as possbible.
Finally, we worked out several ways. 
First one: by screws only.
This kind of hinges are installed by screws only, such as TSH-52-A,TSH-53,TSH-60 etc. For them, you only need drill holes in proper position on your frame and temples, put the hinges on, and screw the screws from outside. They are mostly easily installed hinges,even one 10 years old kids can do it.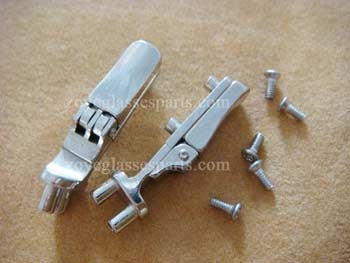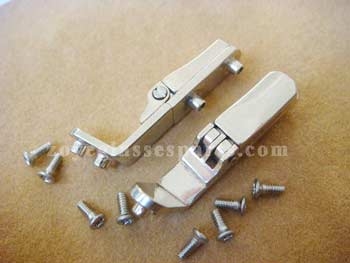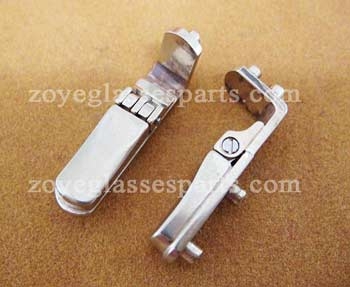 Second: by glue only.
As long as you could get proper glues in the nearby hardware shop, epoxy or AB glue are recommended, our models-TSH-56,TSH-66 are wonderful choices for wood frames, they are totally screws free. Make the recess on your temples firstly,use glue to glue hinges and wood together,that's all. If you are afraid the loosing problem after being used for a long time, you could choose TSH-76 then, which is one doulble spring hinge, which enable the screwing lock on the hinge end except the glue way.
Since their front hinges are designed for plastic frame, they suits combination eyeglass frame perfectly, those frame which have plastic front with wood or bamboo temples, horn temples etc. For completely wood frame, you could make one proper size hole, and use glue for them then.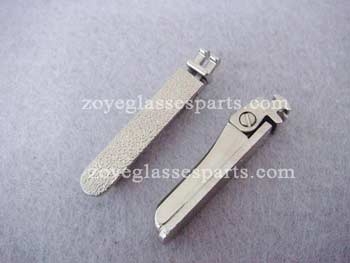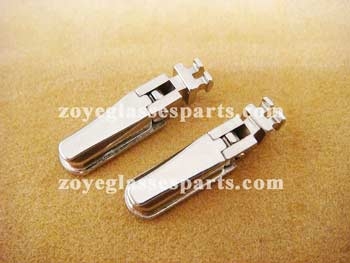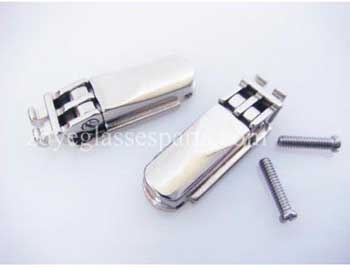 Third: by glue and screws,cutters:
But in most of times, spring hinges for wooden frames are installed by clamping ways with screws. Such as TSH-59-A,TSH-55-A etc. you need to make recess in front and templs, insert the hinges bottom (reaching out base under the spring hinges),put the front racetrack piece into the recess, then screwing the screws on.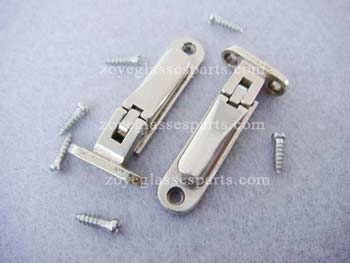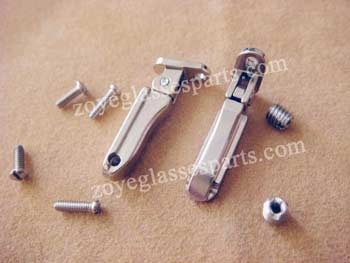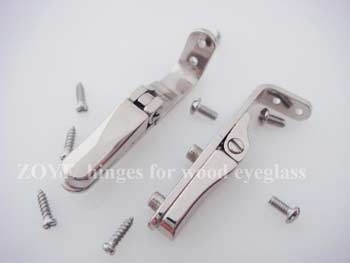 Fourth: by plug in .
For plug in spring hinges for wood eyewear, their front or back hinge portion is usually designed as one round or square stick, which should be pluged into the interior of temples and will be invisible. So actually you will need one small drilling machine for making holes to hold them, such as TSH-10-C,TSH-62, TSH-70,TSH-71,ZSH-01 etc.
For front part, you need to make the recess to put the front racetrack part in. And we will enclose the suitable screws for hinges.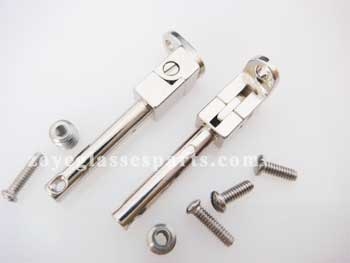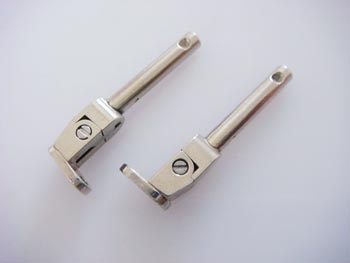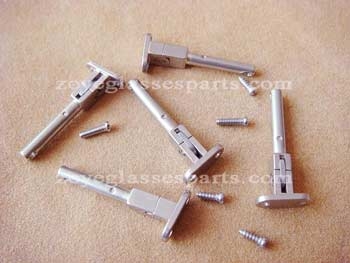 While for TSH-67 and TSH-68, since their front and back sticks are square shape, the holes need to be laser carved by CNC machine for wood frames. Or if you are TR-90 eyeglass maker, you could leave the holes when opening mode of your frames.  so they are quite suitable for TR-90 eyeglass frames etc.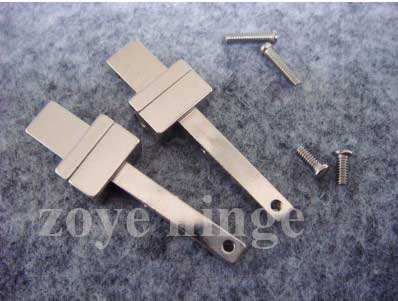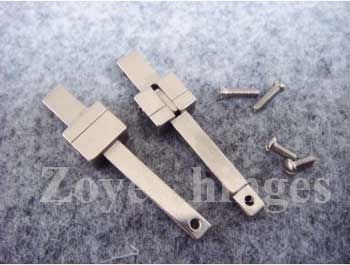 Finally, all these above spring hinges for wood eyeglass were completely designed and developed by our own, ZOYE Eyeglass Parts Co.,ltd, all rights are reserved. In order to protect our models, they are not allowed to be sold in domestic market.
Universal hinges for wood eyeglass:
All above we are telling about spring hinges, while there's the other type of hinges which is without flex function they are universal hinges from TH-21 to TH-38.
We call them universal eyeglass hinges because they could be used in many different material frames, it's almost the oldest hinges since the eyeglass appears, and still be preferred by many eyeglass manufacturer.
For metal aluminum frames,
For plastic frames;
For wood bamboo frames,
They works very well on all above, they are magic and classic hinges.
Usually, they are installed by single rivets, double rivets, screws or even by screws and bolts set. If you are professional manufacturer, single or double rivets are recommended, while if you are only one hobbyist or DIY maker, screws are easier to be mounted. No matter screws nor single rivets, they are enclosed free when the hinges are ordered, only you need do is to make the correct option in the hinge page when ordering them.
Usually, they are made of high nickel with nickel color coating (plating).
Here are four ways to install universal hinges onto eyeglass frame: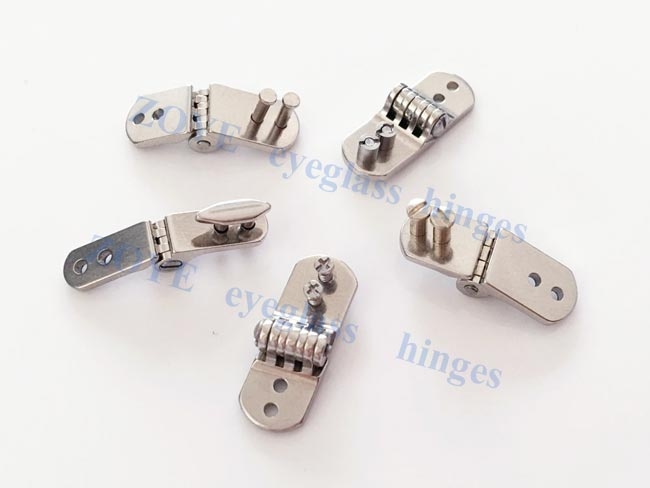 First one :
By self-tapping screws :
Second one:
By single rivets :
Third:
Forth:
By screws and bolts set:
Fifth: by locking nuts like TSN-005.