Everything about double rivet shields, plaquesfor eyeglass,sunglasses, spectacle frames: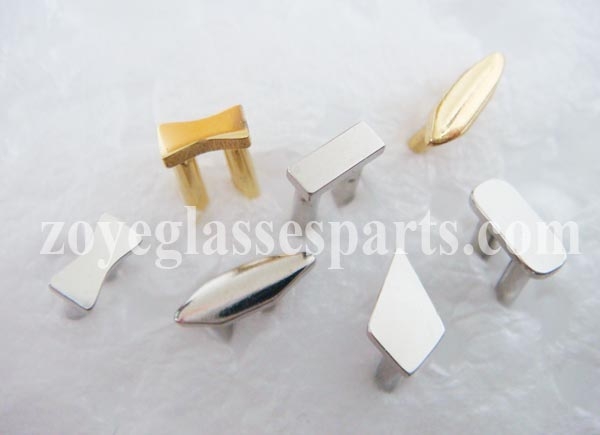 Where to find metal pins,metal double rivet shields,plaques for eyeglass frame online ?
ZOYE supply various metal double rivet shields,double rivet plaques for eyglass hinges and temples(or wire cores) installing, such as bow shape , rectange shape, arrow shape etc, avaiilable with silver,gold,gun colors,from 5.0-7.0mm height. made of high nickel and stainless steel, supe quality is.
To custom made it is availiable as long as your drawing could be supplied at MQO: 2000 pieces.
FAQ about double rivet plaques:
What is double rivet plaques are used for ?
They are usually used for mounting eyeglass temples with hinges together, or mounting the temples onto frame front together;
What the material they are made of ?
usually, they are made of nickel or stainless steel for plaque, and nickel for posts ;
What colos are available ?
Usually,they could be coated to silver, gold and gun colors ;
What shapes are available ?
rectangle shape, round shape, racetrack shapes,bow shapes, arrow shapes etc shown as above are available already, but in custom order, actually, any shapes could be possible.
What sizes are available ?
5.0mm height, 6.0mm height,7.0mm height available,1.0mm-1.2mm posts are available already,
but in custom order, actually, any sizes could be custom made.
Could I have my own double rivets custom made ?
Sure, it's available, MOQ: 2000 pieces;
Lead time for custom order ?
Usually, 20-25 days once the deposit is received.