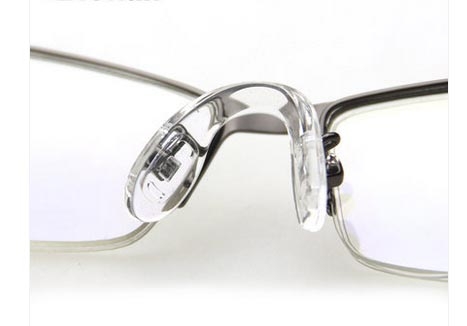 strap bridge nose pads, nose pad straps:
Strap nose pads is one special kind of eyeglass nose pads,which comes aross your bridge like one strap,so it's also called nose pad straps, are widely used on adults eyeglasses and kids eyeglasses.
The shortcoming of separate nose pads is it will cause red spots and hurts your nose after it's used for a long time and get harden,while strap nose pads won't. That's because, the straps could disperse the weight of your frame to whole strap, makes your bridge as comfortable as lie on the bed. That's why it removes red spots.Unlike separate pads, all pressure is only put on two small spots.

It's a good choice for replacement if you feel hurt on your old two pieces of nose pads, especially for kids frames.
Since mount sizes of screw on and push on types are almost designed at the same size, so no worry if it could fit your pads holders.

Varioius sizes and different types,screw on, push on are optional.