Saddle Bridge Nose Pads,Nose Bridge Pads:
characters: saddle bridge nose pads is one kind of special eyeglass nose pads whose shape looks like one saddle, there are one raised area around 2.5-3.0mm on the back with two spacers inside to enable the bridges to be screwed onto glasses. The metal piece which was inserted inside makes pads more durable and strong enough to support the weight of your glasses.These bridges are mostly used on sporty glasses which require more stablility during riding or playing. The another advantage is these bridges are adjustable bridge as its two legs are soft to be opened wider or closer at one limitated degree with different customers face size, make it a bit bigger or closer. It combines eyeglass bridge and nose pads together,so also called nose bridge pads.

Material: these bridges are usually pure silicone or imitated silicone,metal insert are usually made of nickel with nickel,gold colors coating..
Colors: transparent or black for silicone material or imitated silicone, black color for vinyl.
Sizes: A x B; A is top length of bridge (L), B is height of bridge (H); 6mm distance between two holes center;
For TN-101 brown and TN-102 black, the distance between two holes center is only 4mm ; their metal insert is made of stainless steel, and the wrapping material is silicone, which are strongly recommended because:
1): metal insert is made of stainless steel, more durable in use;
2): brown or black color which won't be changed forever in use, and wrapping material is made of silicone; comfortable for wearing;
3): only 8mm width on the head which needs smaller space to install the bridge on.
4): last but most important, the bridges are soft enough to be adjusted to the size and shape exactly as you like.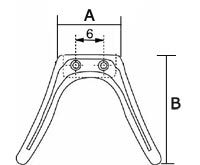 Below are saddle bridge nose pads collection, with various sizes, material and colors: