Payment Ways in ZOYE Eyeglasss Parts Co.,ltd ?
For Russian customers:
We are quite sorry for the trouble you are facing now, now since you couldn't use credit card or paypal, you could find one chinese courier or friend to help to pay for you, or you could pay from another country as well.
For customers from other countries:
by Paypal,Credit Card, Western Union or bank transfer.
First: PayPal or Credit Card:
PayPal or credit card is always prefered for any order anytime. If you don't have one,we'll appreciate if you could register or apply for one for future purchases.
Why did my PayPal payment fail?
Sometimes, you'll encounter problem when paying via PayPal which says payment has been failed or PayPal has rejected the payment and the transaction couldn't be completed like below:
They are mainly because of reasons below:
First: your post code is not corresponding to your city name;
Second: insufficient money is there in your account ;
Third : your payment amount today has exceeded the daily or monthly maxim transaction amount set in your card. In that case, you have to reset the maxim transaction amount.
Fourth: you forgot to select shipping way before paying.

Try to fix them and your payment will be successful in most time.
How to pay by credit card:
Credit card payment is acceptable when you don't have one PayPal account as long as you could pay successfully,
When you click " check out with PayPal", it will lead you to PayPal login in page, instead of filling in your Paypal email and Password, please click " Pay with Debit or Credit Card" on the bottom, then follow their instruction to complete the payment, thanks!
Enclosed one photo for your understanding easier.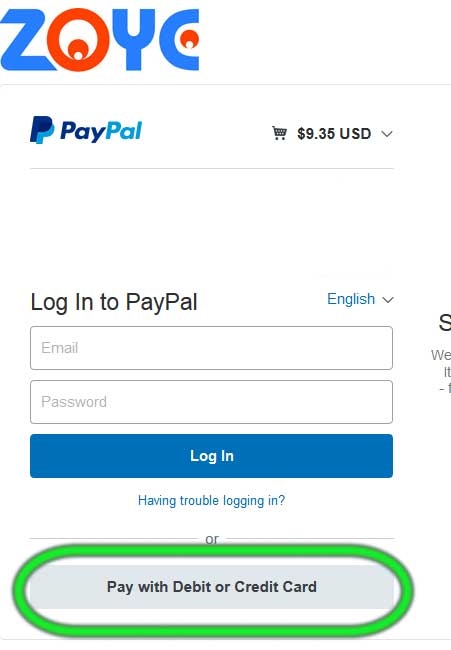 If you couldn't find the button, it's better to inquiry your local PayPal service, they will give positive reply.
by western union:
Our western union information is:
First name: HAIHUA
Surname: LI
Country: CHINA
Once you finish the payment, please send us western union copy with your detailed shipping address,cell number, addressee so that we could track money status and arrange the goods shipping correctly and timely.
Third: by bank transfer
It's usually not recommended for small retail orders as the bank fee charges around 50USD (sending bank fee+ intermediary bank fee), which is unaffordable for one small order. But if customers insists on, all bank fees will be on his account. Usually wholesale order will use it.
How to order:
1) add all intereseted items into the cart, and click "view" ,
2) fill in your country, post code, state to calculate the shipping fee, choose shipping way you prefer below by air mail or by express ;
3) update the total amount;<
4) click the " PAYPAL check out " button, you will be directly led to PayPal website;
5) type in your PayPal email and password to login in; or click "pay with debit or credit card" on bottom ;
6) one window appears where requires you to fill in the shipping address, if it's same as the one you ever registered, leave it alone, if it's incorrect, please click "change" on the top right corner, type in the correct shipping address,then click" pay now " Up to here,we think the payment is made successfully, thanks!
If you want to leave any message,please write it in "message column" below the shipping address.
For details, please check how to order here.
--------------------------------------------------------------------------------------------------------------------------------------------------------------------------------------------------
Other questions:
1) Do I have to register one account in your website for making the order ?
No actually, you could make the order as guest, but if so, you need fill in your shipping and billing information every time when you want to place the order.
2) Is there any minimum amount for making the order in your store?
No any minimum amount required actually,just add all items you are interested in,select shipping fee,then click " Paypal check out".
3) Must I register one Paypal account for ordering ?
To register one Paypal account will make the ordering much easier and faster, but it's not always necessary when you prefer to pay by western union and bank wire.