popular spring hinge for wood eyeglass TSH-10
Buy 30 for

$2.80

each and save

7

%
Buy 100 for

$2.50

each and save

17

%
Buy 200 for

$2.30

each and save

23

%
Buy 300 for

$2.10

each and save

30

%
Buy 500 for

$1.90

each and save

37

%
Features:
The price includes one pair of hinges together with necessary spacers and screws for installing.
TSH-10 is one great spring hinge for wood eyeglass,which is quite popular among wood sunglasses manufactureres as it could be installed by screws,spacers and glue only instead of by welding or soldering.
It's very strong and almost invisible from outside,which makes your frames to keep the wood taste completely. The downward 6 incline degree makes the hinges suit your frames better.
WHY WE ARE MUCH BETTER:
As hinge supplier for the biggest wooden eyewear company in US,our hinges are suporier to others in three factores below:
1st: Spring actions: 15000-20,000 times actions after adding oil (openning and closing is counted as one time.)
2nd: Openning angle: control in 22 degree with +/- 2 degree tolerance.
3rd: Horizontal pulling force tester : the spring can resist at least 25 kgs pulling force before it's pulling out of spring box, actually,the real numbers is 25-35kgs as we did double punches on the hinges,on front and back, while others normally 18KGS with one punch.
Quality control machines or tools below: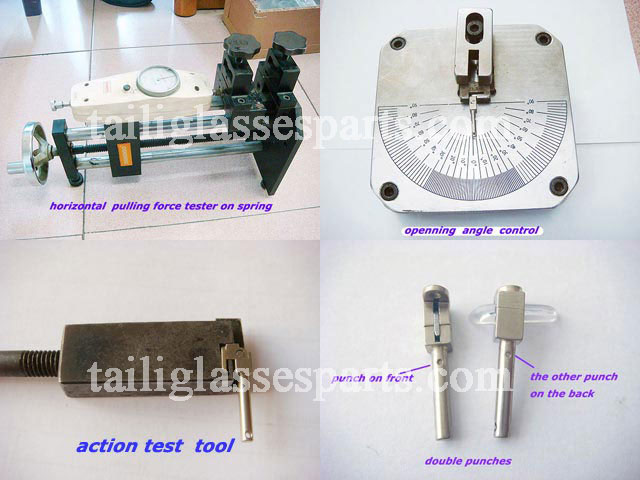 Mass goods before packing: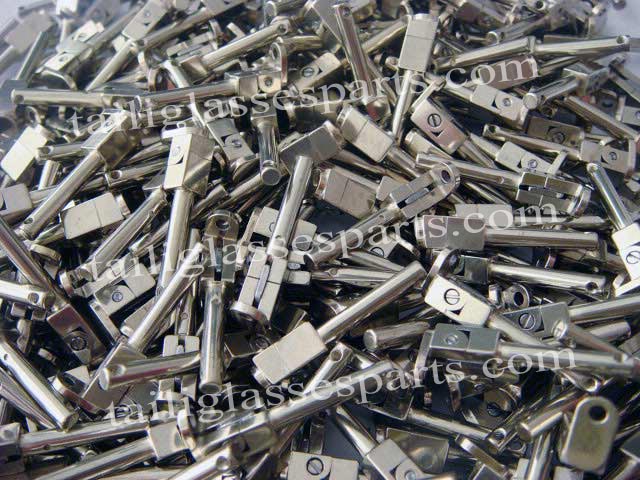 Availability: in stock currently.
Material: high nickel for hinge,and stainless steel for spacers and screws;
Weight: 3.5 grams/pair with spacers and screws;
drawing: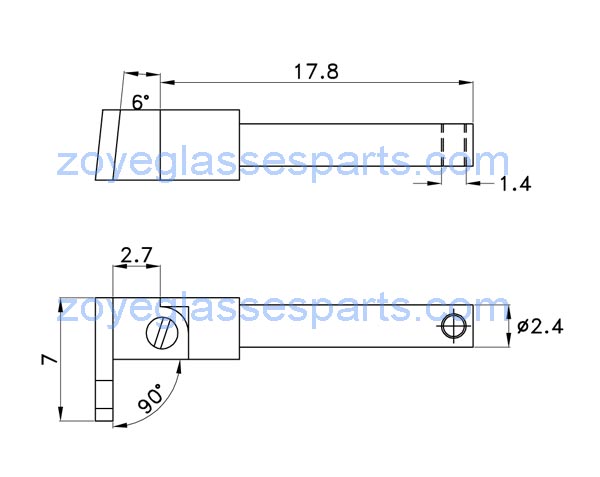 Similar models:
If you need 95 openning angel degree,please refer to TSH-70 ,while for 100 degree, please refer to TSH-10-C , if you require round ended hinge,please check TSH-71, thanks !
Where we are better ?

Left one is others', right ones is our proucts (TSH-70 for instance).
1) profile: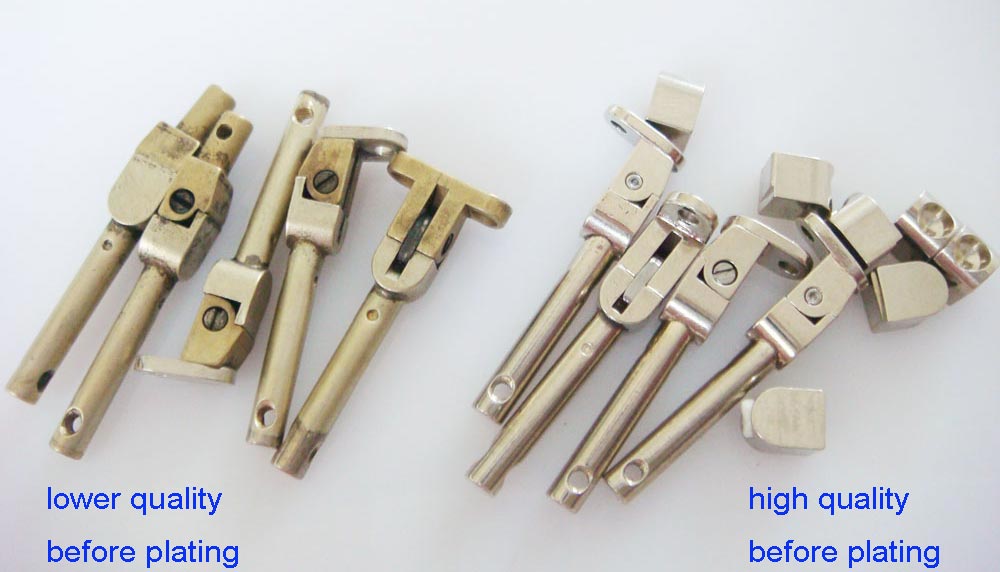 As you could find,left ones are yellow color without plating,it's poor profile which will get broken in use; on the contrary, the color of right ones looks much whiter and shinny, as we use high quality profile which is much stronger and endurable. Attention, it's original color without any plating.
Workmanship:
(1): front view:

(2):side view:

(3): back view:

As you could easily find,the workmanship and surface of left ones is quite rough, while right ones is much more delicate and finner as it's for high demand market.
Springs: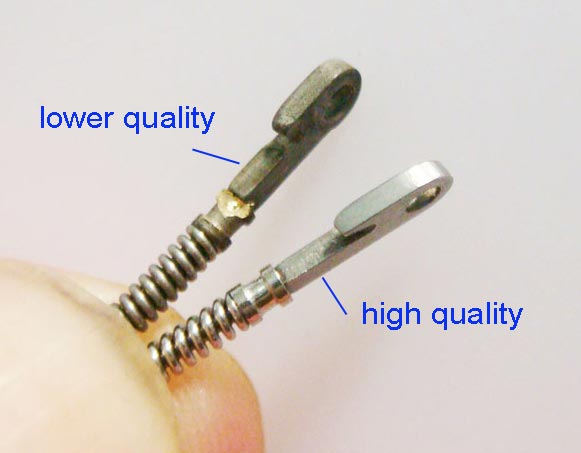 Grabbing screws,stainless steel spacers :
All other supplier use nickel spacers,while our grabbing screws are made of stainles steel only.

How to know:

Sometimes,they are plated by nickel color, but we could know it easily by one magnet.
as nickel color couldn't be attracked by the magnet,while stainless steel on the contrary.


Spring Actions:
continue..........
Effect after installing hinge TSH-10 onto wood sunglasses, how it looks onto frame: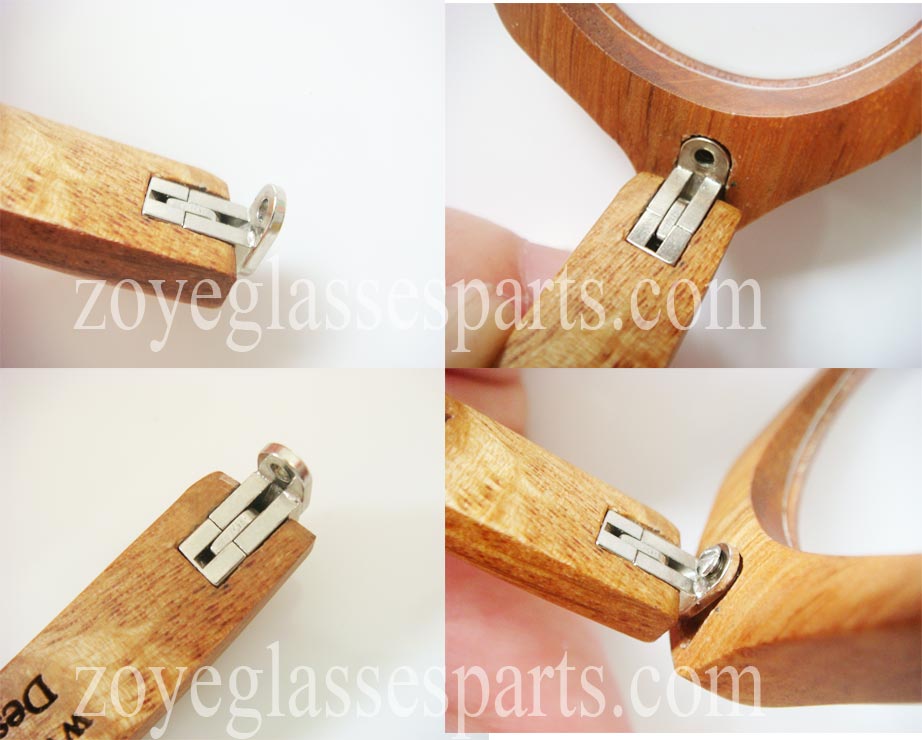 How to install hinges ZSH-02/TSH-10/TSH-70 onto wood bamboo eyeglass:
Firstly,make one recess on your frame front,screwing the spacers (grabbing screws) in .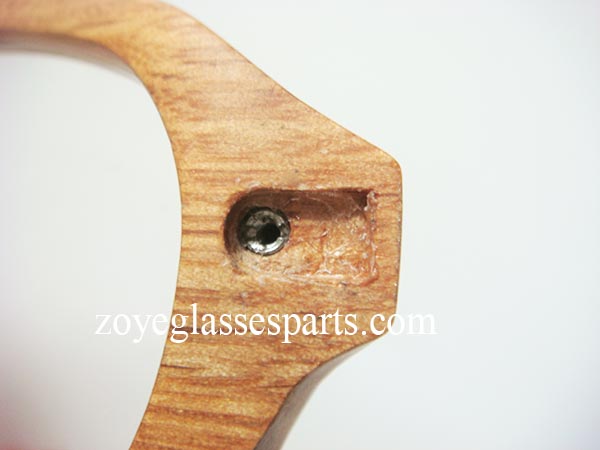 Secondly,make square recess on temples, drill one long round hole meanwhile;
Thirdly,insert temple  hinges in;
Fourthly, screw the hinges onto front, through metal piece and into spacers.
Fifthly,screw the hinges from temples side:
More Information

| | |
| --- | --- |
| Is Product Available for Purchase with Google Checkout | Yes |